Don't Start Too Fast
Using a pace calculator will help you to start your race at the right pace and then to run at the correct pace throughout.
When planning your race be realistic, you know how much training you have put in for the race so set yourself a realistic time. Anything can happen on race day, the weather may be bad or you're just not up to it, so have more than one time planned to finish the race in.
Try to stay as near to the times you have set for yourself for each split as best you can, but don't fret if you are couple of minutes behind.
If you find yourself falling behind don't suddenly accelerate to try and make up the time as quick as possible. Increase your speed gradually until you are back on track.
Do not try and get ahead of your pace chart, unless you are feeling super strong in which case go mad. However the most likely result is that you will fall behind towards the end and run a slow time.
Check out the pics below, it's basically a material wrist band with a plastic sleeve on it. You insert your pace band, wrap it around your wrist and your ready to go. I got this as a freebie with a Runners World I bought a couple of years ago. It works really well and is also water proof.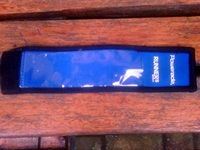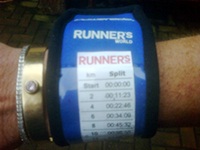 Download pace charts to get an idea of where you need to be at a given time to finish your race in the time you want.
On the Runners World site you are able to input the distance and time you are aiming for and a pace band is automatically generated for you, very cool. Here's a link to the page.